Lamenting the Passage of Time
seems to be a theme here, on my little blog. So, I'm sorry to do it again, but, where did my favorite month go?
I can't believe that we're on our last week of October.
October has been a spectacular month here in St. Louis. Usually, we get a fair bit of rain in October and sometimes we get lots and lots of rain. That is just the way it goes. But our October this year was dry and very pleasant and that made me really, really happy.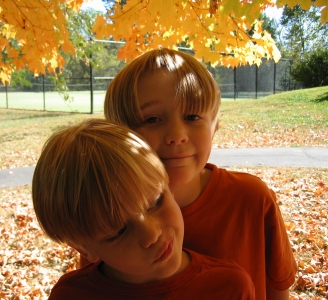 Here we have #3 (who has done some self-hair-cutting, ahem) and #4 in the leaves
Enough of beauty and months and the passing of time.
It is Monday and I need music. What about you?
This is an oldie that puts a smile on my face, always. It's "The Bright Side of the Road" by Van Morrison. I don't know anything about the guy who covers it here except that he does an excellent job.
Have a good one, everybody.