This is a reposting from last year, y'all.  But these cupcakes….whoa.  Mega yummy and really easy, too. I know that St. Patrick's Day isn't for a few days, but you need to make these.  So, I thought I'd give you a little time for advance planning.  Just kidding — I'm not really not bossing you….these cupcakes are no joke though.  People in your life will be delighted if you make them. 🙂
From March 17th, 2011.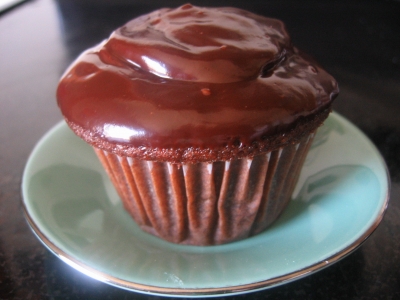 I made some cupcakes today. I took some to the secretaries at J's school, just because they're so sweet to him, and I also took some to a friend. Later in the afternoon, I got an email from that friend saying that it was the best cupcake she'd ever had.
High praise, indeed, though this recipe might just warrant it.
These are good cupcakes. To like them you must adore: chocolate, whiskey, Irish coffee, creamy filling, and a really moist coffee-chocolate cake. That covers 95% of the population, I'd bet.
Irish Coffee Cupcakes
Makes 12 standard cupcakes.
Preheat oven to 350. Line a standard cupcake pan with paper cupcake liners.
Ingredients
Cake:
1 1/4 cup all purpose flour
1 t. baking powder
1/4 t. baking soda
1/4 t. salt
1 cup strong brewed coffee
6 T. cocoa
1 1/4 cups brown sugar, packed
1 stick butter, room temperature
2 t. vanilla extract
2 large eggs, room temperature
Filling:
4 oz. cream cheese, room temperature
4 T. butter, room temperature
6 T. powdered sugar
1 T. + 1 t. Irish coffee liquor
Glaze:
2/3 cup chocolate chips
1/4 cup heavy cream
2 t. agave nectar or white corn syrup
2T. Irish whiskey
Instructions:
Sift the cocoa into a small bowl.
In a 2 cup measuring cup, microwave the coffee until it is just about to boil. Take it out of the microwave and pour it into a large bowl. Gradually whisk in the sifted cocoa, until smooth. Add the butter and whisk until butter is combined with the cocoa and coffee. Add the sugar and whisk again until combined. Cool until tepid. While it is cooling, sift the flour, baking powder, baking soda, and salt into the same bowl that you used for the sifted cocoa. After the chocolate/coffee mixture has cooled, add the eggs and the vanilla. Whisk until combined. Add the flour mixture and whisk only until just combined. Do not overmix. Pour into the cupcake liners and bake 20-22 minutes until just set in the middle. Watch them like a hawk at the end of baking time. Pulling them out at the right time ensures a moist cake.
Cool completely.
To make filling:
Beat the cream cheese and butter with a paddle attachment in a mixer or use a food processor. Add the sugar. When it is combined, add the Irish coffee liquor.
To make glaze:
Put both the chocolate chips and heavy cream into a microwave safe bowl. Microwave the mixture at half power for one minute intervals, stirring in between each minute. When the mixture is smooth, add the corn syrup or agave nectar. Stir in the whiskey.
To assemble:
Using a sharp, short knife, cut 2-inch cones out of the top of each cupcake. Remove the cones from the cupcakes and trim off the point of each cone to make each cone into a disk roughly 1/3 inch thick. Place some of the filling in each cupcake. Top the filling with the corresponding disk of cake. Dip the top of each cupcake in the glaze. Make sure to twist your wrist as you remove each cupcake from the glaze. That will give it a great little swirl on top.
These are so yummy, y'all. I know that it looks like too much work, but they are really easy to put together. Also, the filling can be made and refrigerated for up to 2 days ahead and the cupcakes can also be baked hours ahead. The glaze is easy and makes each cupcake look gorgeous.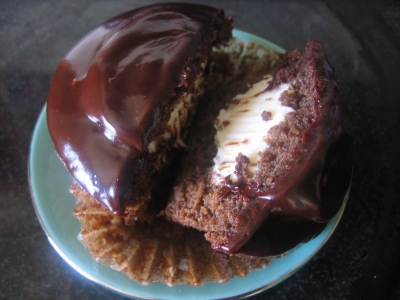 (Recipe from David Lebovitz's Ready for Dessert. The method is mine.)
One more thing, save for the whiskey, these cupcakes are Aldivore.
The luck o' the Irish to ya!