Spaghetti and Meatballs
This is the meal that everyone in my family enjoys. 100 percent approval is a rare thing for me when it comes to making dinner.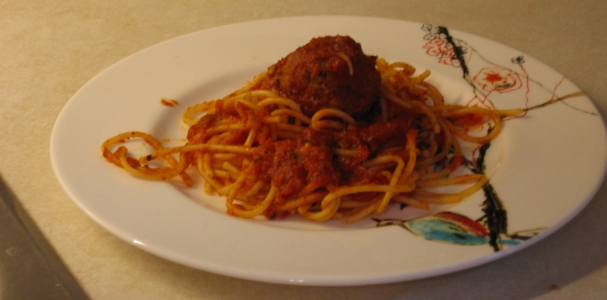 This recipe is not aldivore, sorry. It contains ground pork (my Aldi doesn't sell that) and a big can of crushed tomatoes (they don't sell that, either).
Hey, Aldi, if you're out there you really need to carry a few more ingredients…call me, okay, and I'll fill you in…
This is not at all gourmet (you'll see that I give you my blessing to use dried herbs and Parmesan from the can) but it is good.
Spaghetti and Meatballs
3 pieces sandwich bread (crusts discarded), torn into tiny pieces
1/2 cup buttermilk or 6 T. plain yogurt thinned with a couple T. milk
1 pound lean ground beef
1/2 pound ground pork
1/3 cup Parmesan (the kind in the shaker works fine)
2 large egg yolks
1 1/2 t. minced garlic
3/4 t. salt
ground black pepper
canola oil
Combine the bread and yogurt or buttermilk in a medium sized bowl. Let it stand a few minutes and then mash it with a fork until it is sort of paste-like. Then add all the other ingredients save the canola to the bowl and combine (I use my hands to do this) until is well mixed. Form the meat into meatballs using a light touch so that they hang together but aren't super firm. Make them any size you like — ours are usually the size of golf balls.
In a large skillet, pour oil to a 1/4 inch depth. Heat the oil over medium heat. Use a meatball to test the oil. When it sizzles, then add all the other meatballs in a single layer. Fry them, turning whenever needed, until the meatballs are nicely browned on all sides. Put them on a paper towel lined plate.
Meanwhile, heat 4 quarts of water to a boil for the pasta. Add 1 T. salt and cook one pound of pasta until al dente. Drain. Make sure to reserve a cup or so of the pasta water to use if the sauce is too thick.
Make the sauce while the pasta is cooking.
For the sauce:
2 T. extra virgin olive oil
2 t. garlic
1 1/2 t. dried herbs such as basil, oregano or herbs de provence
1 (28-ounce) can crushed tomatoes
salt and pepper
Drain the oil from the skillet but leave behind the browned bits. Add the olive oil and then the garlic and herbs. Cook, stirring the garlic/herbs and scraping the pan just until the garlic is golden — about 30 seconds. Add the tomatoes and bring to a boil. Simmer the sauce 10 minutes or until thickened. Add salt and pepper to taste and then add the meatballs and simmer, turning them occasionally until heated through.
Ladle several large spoonfuls of sauce (without meatballs) over the pasta and toss to coat. Plate the pasta and then add a bit more sauce and a few meatballs on top. Serve with additional grated Parmesan.