Chocolate Almond Crackers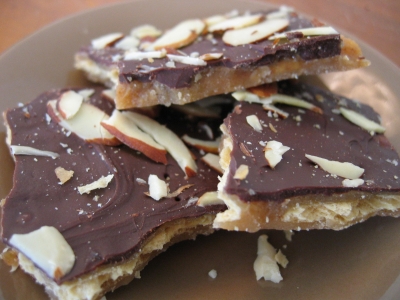 I feel flustered today, y'all. First the tornados in Alabama, then I mis-scheduled an important meeting, my phone was on the fritz, I'm thinking about the future….etc.
In these times, and on flustered days such as these, I find it useful to talk about and consume food. Which leads me to these crackers.
I made this recipe for the first time yesterday. Primarily, I made it to give to a friend for a little happy. (Are y'all acquainted with the word "happy" to mean little present or gift? It might be a Southern-ism, so I explain, just in case.) I thought that they were good. My second son inhaled some and asked that some be put in his lunch today. But, I knew that I needed to share it with y'all when Jon called me from work to ask me about the dessert that I had put in his lunch.
It is Aldivore. If you love almonds/chocolate/toffee, then you'll love it.
Almond Chocolate Crackers
I make this in a half-sheet sized stainless steel pan. Those measure 8 3/4 inch X almost 12 inches. If you have a full sheet pan then I think that you could double this recipe to fit your pan with no problems. Doubling is a good idea, anyway, because these are that good.
Ingredients:
saltine crackers
1 stick butter, cut into 4 or so large pieces
1/2 cup packed light brown sugar
big pinch sea salt
1t. almond extract
3/4 cup semi-sweet chocolate chips or chopped bittersweet chocolate
1/2 cup toasted sliced almonds (you could use chopped almonds or slivered, of course, but I like the way sliced look. They're pretty.)
Preheat the oven to 350 degrees.
Line the baking sheet completely with foil. Then, either spray the bottom foiled surface with cooking spray or line it with parchment paper.
You'll need 26 or saltine crackers, give or take, to line the bottom of the baking pan. Break them in half, if you have to, to fill up the extra space around the edges.
In a heavy small saucepan, melt the butter and sugar together over medium heat. Stir it constantly until it begins to boil. Let it bubble for three more minutes, stir it frequently-constantly. Remove from the heat and add the almond extract and the pinch of sea salt. Quickly pour over the crackers and spread it quickly and carefully as it begins to set immediately.
Bake the crackers and caramel covering for 15 minutes. Watch it carefully, because depending on your oven temperature, it can begin to darken and burn on the edges/corners. So, watch it, and pull it out at the 15 minute mark.
Once it is out of the oven, sprinkle it with chocolate chips and let them stand on there for 5 minutes. After the 5 minutes has passed, smooth out the chocolate so that it completely covers the caramel (an offset spatula would be great here, I think, not that I own one, but I'm sure that it would help with the spreading if you do have one). Sprinkle on the almonds.
Allow it to cool and then break into pieces. Will last a week in an airtight container though it'd never get to be that old around here.
Happy scattered Thursday, y'all!