Halloween
For Halloween we had:
-Ironman, who sang his own theme song (loudly) with his own made up lyrics.
– Spider Man in black, sweet boy decided to be the same thing two years in a row since his mother didn't get his other costume together.
– Nerd – he played the part very, very well. Another boy who came up with his own costume when his mother didn't get his together.
– Santa Claus – which, to quote Jon was, "J's most genius left-field idea, EVER!" That's saying something, really, because this kid is the king of left field ideas.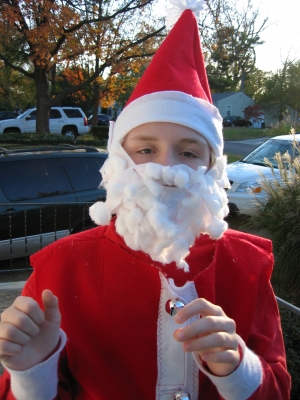 Speaking of left field, J is singing a song on his blog today. "Blue Suede Shoes" + sung by Santa + On Halloween= Wacky J in a nutshell.
I hope that y'all had a good one! November, here we are.