Pancakes, Mmmmmm
There is just something about a perfect pancake. It's so simple.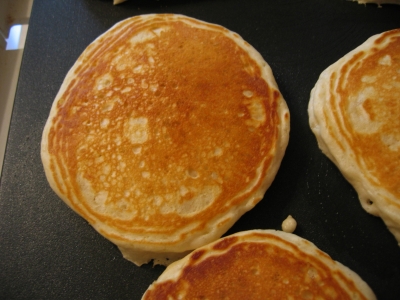 You must have this recipe. I came up with it several years ago. It is only a tiny smidgeon harder than a mix and so much better. The great thing about it, too, is that it is even better if you let it age — either on the counter for 30 minutes before cooking or in the fridge overnight if you're the plan ahead type. I'm actually going to masquerade as a plan ahead type of person the next time we have folks over for Sunday lunch after church. My plan is to make up a big batch of batter, make the bacon ahead of time, make a fruit platter and then just warm everything up and make pancakes and scrambled eggs when we get home. The only thing I don't know is what kind of snack one puts out before a meal of breakfast and I also don't know what kind of drinks to have besides coffee, of course. Screwdrivers? Mimosas? Bloody Marys? Suggestions?
Here's the recipe:
P-Annie Cakes
Double or triple at will.
2 T. Butter
Milk (or buttermilk) on top of butter to make 1 Cup
1 large egg, beaten
1 cup flour
1 T. baking powder
1 1/2 T. sugar
1/2 t. salt
In a glass measuring cup, melt the butter in the microwave. When the butter is melted, add enough milk to make one cup. In a medium bowl, whisk the egg until beaten. Add the milk and butter mixture. Whisk a few times. Then, add the dry ingredients — just sprinkle them over the butter/egg/milk mixture. After all of the dry ingredients have been sprinkled on, then whisk them in until incorporated and mostly smooth. Don't fuss if there are small lumps here and there. It is more important not to beat the batter to death. Allow the batter to age on the countertop for 30 minutes or so or cover it and put it in the fridge to let it age overnight.
Fry them up and dig in!