Originally published October 20, 2009.
His Costume
A couple of weekends ago our church had its annual Harvest Party. One of the activities every year is a costume contest.
Well, I am a slacker. And, it was still before Halloween.  So, I didn't really talk about the costume contest all that much with the boys. Therefore no one asked for help with his costume. My laziness truly knows no bounds.  
When we got to the party costume-less, my oldest son decided that he wanted to be in the costume contest.  I was visiting with fellow partygoers at the time, and had no idea what he was up to.
He walked over to where the judging was taking place.
He told them that he wanted to enter.
It was patiently explained to him that to be judged in the costume contest one actually had to be wearing a costume. The folks running the judging kindly pointed out to him that the jeans, t-shirt and hoodie he was sporting didn't really count.
Oh, but he insisted that he was wearing a costume.
They asked him what he was dressed as. He replied,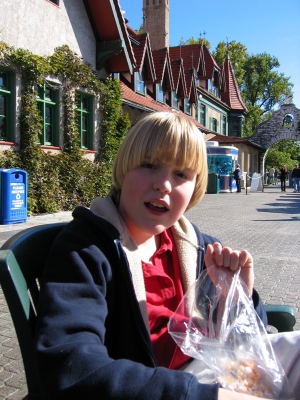 "I'm the employee of the month."